Discover Excellence in Dining at Pioneer Village
At Pioneer Village we appreciate that a nutritious diet of choice is one of the most valued aspects of a senior's life. We believe that a fine dining experience begins with fresh, house-made specialties using the best ingredients.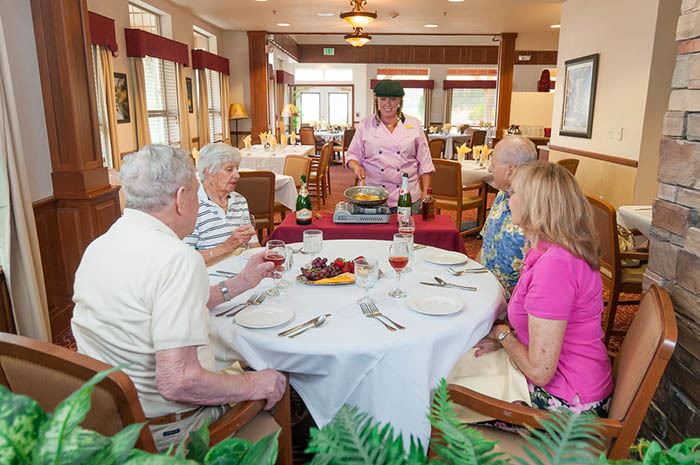 Residents and guests may enjoy a restaurant-style dining experience created and served by a friendly and passionate staff. We provide tasty and well-balanced meal options throughout the day for our residents to enjoy anytime!
Anytime Dining at Pioneer Village
Our Anytime Dining Program allows residents to eat anytime from 7:30 am to 6:15 pm! Residents may enjoy a choice of meals throughout the day around their own schedule and independent lifestyle.
Breakfast is served daily from 7 am to 11:30 am. Our breakfast menu features one specialty entrée each day such as biscuits and gravy, chef's omelet, eggs Benedict and other house specialties. In addition, we offer hot and cold cereal, eggs and a style of meat daily. We also offer a fruit bar and continental pastries daily.
After our breakfast hours, from 11:30 am to 6:15 pm, we offer a choice of three different entrees with four to five side dishes, a full salad bar and house-made soup. No meal is complete without a tasty dessert. Our daily selection of dessert is the perfect way to end a meal!
Call or contact us to see what is cooking in our community this week.